In case you missed it last weekend, Scribings Vol. 1 was one of several books featured at Her Ladyship's Quest Big List of deals at Google Play Books!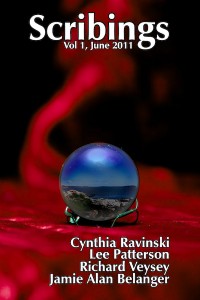 Scribings Vol. 1 was the first Greater Portland Scribists publication, published by Lost Luggage Studios in 2011. I have three short stories in this volume, and it is near and dear to my heart.
"The Last Mate"
What will the last mate do to gain control of a ship who chooses her own crew?
"The Making"
The young gods thought it was they who ruled the world.
"In the Business of Rotting"
Forced to find a new passion after a revolution, a jeweler-turned-distiller is determined to forgive and forget. But a new discovery changes the nature of her business.
Scribings is a fabulous compilation of speculative tales by four Maine authors. The collection starts with one piece of flash fiction from each author. The rest contains longer pieces of fiction for a total of eleven pieces representing a range of styles and genres from fantasy to science fiction and beyond. Watch young gods learn their place, see what the afterlife is like, meet Dappil, taste the sweetness of revenge, feel the fires of judgment and more.
Reviews:
"A well-written, eclectic collection. Worth the time, and I hope to see more from these authors in the future!" -David Day on Smashwords
"This collection contains several short fantasy stories of varying length. Each writer made sure to include a 'suprise' feature keeping it fresh . Most stories left me hoping to see more about these characters and themes. Probably the best use of two dollars I' ve made in a while." -Amazon Customer
Her Ladyship's Quest Big List of deals at Google Play Books also features 13 other books by 13 different authors. Go check it out. You may find your next summer read!
Her Ladyship's Quest: Big List of Free through $2.99 deals at Google Play Books