Disciple is a gritty fantasy romance series in six parts. The Disciple Half-Omnibus collects the first three parts into one meaty ebook. Part IV will be on sale March 1st!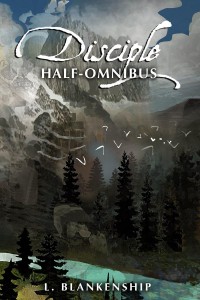 War is coming. Kate Carpenter is only a peasant girl, but she's determined to help defend the kingdom and its bound saints against the invading empire. Her healing magic earned her a coveted apprenticeship with the master healer; now she must prove herself ready to stand in the front lines and save lives.
She's not ready for the attentions of a ne'er-do-well knight and the kingdom's only prince, though. This is no time to be distracted by romance — the empire's monstrous army will tear through anyone standing between them and the kingdom's magical founts. All disciples must put aside their tangled feelings and stand in the homeland's defense.
***
Interview with a prince:
Prince Kiefan is the only surviving son and heir of the king of Wodenberg. Like his father, he has a reputation for discipline and stern expectations–and he's eager to prove himself now that he's come of age. I had some questions for Prince Kiefan at the beginning of Disciple, Part I. He's about to leave on a vital secret mission to find allies for the kingdom.
L: You're an alpha male in training and this secret mission is your most important command yet. Do you feel ready for this?
Kiefan: I trust the saints' judgement. Though Father and I disagreed over the cavalry charge that I led some months ago, he cannot deny that it won the battle. The saints have judged me fit to lead and I will not fail in my duty to them or my people. 
L: You didn't expect the master healer to send his apprentice, though.
Kiefan (frowning): No, I was told he would be with us in this, and then he brought Kate in his stead — but the saints affirmed her, gave her charge of our well-being. One must work with what's given. 
L: It's not because she's a girl, is it?
Kiefan (he laughs): I squired with Captain Aleksandra. Any who dares doubt her will be put straight on the matter of a woman's strength and courage. But Kate's no disciple of the sword. She's a healer. It's clear enough this will be no easy journey across the mountains — none have made it and returned, that any know of. The saints ask much of us, as it is.
L: So the problem is more that she's — bookish?
Kiefan: Kate has never even been in the saddle before today. Surely she'll learn it, but yes, she's spent more time among books than —
L: I hear you're fond of books yourself.
Kiefan: Father's seen that I've studied tactics and —
L: No, I mean those philosophy essays you've been sneaking peeks at.
Kiefan (frowns): Father's kept my days busy enough with serious matters.
L: There's nothing wrong with a little philosophy, surely?
Kiefan: The king of Wodenberg must be a knight, firstly. He must see to duty. We're at war.
L: Yes, it's always duty for you. Including a political marriage someday.
Kiefan (gets up from his seat, impatient): The privileges of the throne have their price. I've a mission to lead. (strides away, armor clinking)
L: You're not concerned about traveling with a cute, philosophy-reading healer?
Kiefan (circles back): Pardon?
L: Well, she is cute.
Kiefan (spreads one hand, confused): Yes, certainly she's… cute. Philosophy?
L: Oh, yes. She's been reading those essays too. Her teacher might've sent some homework with her on the mission.
Kiefan (doesn't know what homework is, but he gets the gist): Why should that be troublesome?
L: I'm sure it won't be, Mr. All Work And No Play.
Kiefan: Which books is Kate bringing?
L (shooing him off): It's not part of your duty, is it? Go, you've got a mission to lead.
***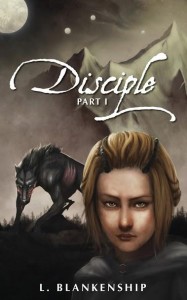 Read Disciple I for FREE from
Amazon •Smashwords •AllRomance
DISCIPLE, PART IV arrives on March 1st!
Get a reminder by joining L's mailing list
Check out this Rafflecopter giveaway to win one of two free copies of the Disciple Omnibus.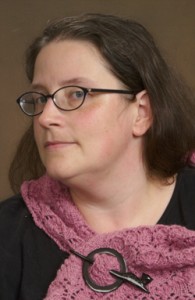 L. Blankenship started writing animal stories as a kid and it's just gotten completely out of hand since then. Now she's out publishing her gritty fantasy and hard science fiction adventures. L grew up in New Hampshire but currently lives near Washington, DC. She blogs here.